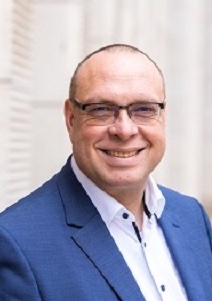 ---
New EEP-Manager
The board welcomes Lorenz Kuhlee as the new EEP Manager in the extended board of ECTA. Lorenz succeeds Edeltraud Haas, who resigned from the position of EEP Manager at the ECTA Convention 2022. Thanks again in this way to Edeltraud for her years of service on the EEP Committee.
The Board wishes Lorenz all the best for his new position and every success in carrying out his duties.
Lorenz is certainly known by many of you. In order to get to know him even a little better, he briefly introduces himself.
Michael FRANZ | ECTA President | TV Hochdorf
---
Dear ECTA members,
My name is Lorenz Kuhlee (53 years old, married, 3 children, living in Ginsheim-Gustavsburg, Hesse) and I am honored to have been appointed as the new EEP Manager for all sections - Square, Round, Contra, and Clogging. I have been learning and calling Square Dance since 1984. I already called my very first club, the Bembel Swingers from Frankfurt, in 1987. I served as Training Director for the ECTA Board for four years. In addition, I am an Accredited CALLERLAB Caller Coach and therefore also an ECTA Coach - a status that I aim to establish as a short-term goal of the EEP program. Besides my passion for Square, Round, and Contra dancing, I also enjoy playing tennis and I am a member of the Men's 50 team at TC-Nauheim. Professionally, I work at PricewaterhouseCoopers (PwC) and head the Incident Response department for Germany, helping companies through cyber crises such as a ransomware attack. My experience in dealing with crisis situations and my commitment to supporting others will certainly be beneficial in my role as EEP Manager at ECTA.
I would like to take this opportunity to thank Edeltraud, the former EEP Manager, for her excellent work. I am sure I will benefit from her experience and knowledge to ensure a seamless handover.
As the new EEP Manager, I have set some "action points" for the coming months. First, I will thoroughly familiarize myself with the structure and processes of the ECTA EEP program, as well as the needs and requirements of the members and contacts of each section. I will ensure that there are regular (virtual) exchange meetings with the contacts of each section to listen to their concerns and prioritize their needs. I will set clear goals for us and myself and create a timeframe for the implementation of new initiatives and ideas together with the section leaders, and I will regularly inform them about the progress and changes in the training program and answer any questions and concerns.
I am very much looking forward to working with all of you as EEP Manager and developing ECTA's training program further.
Best regards,
Lorenz
---
ECTA Events
---
ECTA Student Jamboree 2023
Date:

March, 25, 2023;

Location:

Sporthalle des TV Hochdorf
Street Adress: Im Einolf 2; 67126 Hochdorf


Hosts:

Tapsy Turtles; Thunderhill Dancers
Flyer Student Jamboree 2023
---
ECTA Convention 2023
Date: 5. - 8. October 2023, Location: Leipzig
EAASDC & ECTA Fall Roundup
Date: September, 1. - 3. , 2023
Location: 85221 Dachau
Hosts: Tamara Twirlers RDC München e.V
Round Dance Festival
Date: 19. – 21. May 2023
Location: Bürgersaal Garching, Bürgerplatz 9
85748 Garching bei München
Hosts: Tamara Twirlers München & Tumbling Trees VfR Garching
Clogging
Convention 2023
Date: July, 21. – 23., 2023
Location: Niedernhausen
(close to Wiesbaden)
Schulturnhalle der Theißtalschule, Lenzhahner Weg 11,
65527 Niedernhausen
Hosts: Mouse Busters der TG Oberjosbach & Crazy Taps der Beaux & Belles Frankfurt 
Contra Dance Convention
probably 2023  in Prague